Blowers
NEW BHARAT" Blowers are robust, welded, M.S. Sheets & plates reinforced with angle iron frame.
RANGE: 0.5HP to 120 HP, 1500/3000 Rpm, with suitable pressure & CFM available on request.
APPLICATION : Rotary furnaces, Cupola furnaces, Rolling mills, Textile mills, Ceramic Ind., Chemical plants, Cement factories, Boilers, Plastic Extrusion plant and for many other Industries.
CONSTRUCTION DETAILS
CASING: Designed to obtain efficient pressure conversion.
IMPELLER:-are fabricated from M.S. sheets & plates, forming in multi-blade type. We maintain clearance between casing & impeller as to reduce air slippage, increase volumetric efficiency.
Impellers are designed as per customer requirement for smooth operations, Impellers are dynamically as well as statically balanced. Also available in aluminum
NEW BHARAT" AIR BLOWERS available with belt drive, pedestal drive or motor drive.
Centrifugal Blowers Looking From Drive End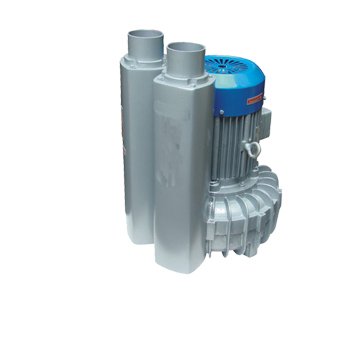 Turbine Blowers/Exhausters
Direct Motor Drive Blower
FEATURES:
Additional Filter System (Optional)
Two Face Impeller for high airflow
No metal to metal contract, No lubrication
Oil free compressed air
Non pulsating continuous Air flow
Rugged Construction
Practically Zero Maintenance
Low noise operation
Compact Size and light weight
| Model | H.P | Capacity M3/hr | pressure Mbar | Vacum Mbar |
| --- | --- | --- | --- | --- |
| NBE 70/1 | 0.5 | 70 | 70 | 60 |
| NBE 150/1 | 1.0 | 180 | 126 | 116 |
| NBE 150/2 | 1.0 | 90 | 146 | 136 |
| NBE 300/1 | 3.0 | 340 | 160 | 150 |
| NBE 300/2 | 3.0 | 170 | 220 | 210 |
| NBE 600/1 | 5.0 | 600 | 240 | 220 |
| NBE 600/2 | 5.0 | 300 | 280 | 260 |