RANGE:
0.05 to 90 HP
REDUCTION RATIO:
5:1, 10:1, 20:1, 25:1, 30:0, 35:1, 40:1, 50:1, 60:1, 70:1.
Also higher ratio 100:1 to 4900:1 can be given on Double Reduction.
SPECIFICATIONS:
MATERIAL&CONSTRUCTION:I.S.S. 3734 1966 for worm gearing or DIN or latest ISI standard.
WORM : The worm is Solid with shaft made of high grade alloy steel so as to give hard wear resisting surface duty case hardened & super finished. The bearing & Oil seal generals are accurately, cylindrically ground to give smooth runring.
WORM WHEEL:made of centrifugally cast Phosphor Bronze rim shrunk.
GEAR HOUSING: made of close graded cast iron. Large cooling fins on both sides a adequate cooling area improve efficiency.
BEARINGS : The ball or roller bearings are used in worm wheel with ample capacity that is can take journal and thrust loads.
OIL SEAL : Best quality of oil seal are used (fenner).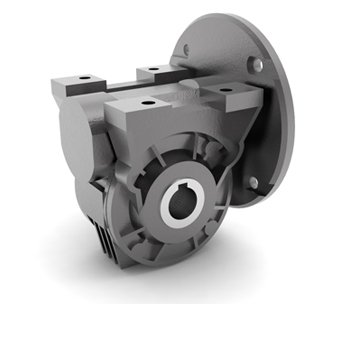 I / P, O / P. HOLLOW WORM GEARBOX
HELICAL GEARBOX(FOR EXTRUDER)
NU / NV Series Center Distance
2.000″ – 2NU
2.250″ – 21/4NU
3.000″ – 3NU
4.000″ – 4NU
5.000″ – 5NU
6.000″ – 6NU
7.000″ – 7NU
8.000″ – 8NU
URF / UFV / FFMU / FFV Series Center Distance
1.750″ – 175 URF / UFV
2.000″ – 200 URF / UFV
2.375″ – 237 URF / UFV
2.875″ – 287 URF / UFV
3.375″ – 337 URF / UFV
4.000″ – 400 FFMU / FFV
5.000″ – 500 FFMU / FFV
6.000″ – 600 FFMU / FFV
7.000″ – 700 FFMU / FFV
8.000″ – 800 FFMU / FFV
10.000″ – 1000 FFMU / FFV
12.000″ – 1200 FFMU / FFV